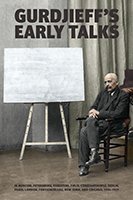 GURDJIEFF'S EARLY TALKS 1914–1931
In Moscow, St. Petersburg, Essentuki, Tiflis, Constantinople, Berlin, Paris, London, Fontainebleau, New York, and Chicago
With a foreword by Joseph Azize
Author: Gurdjieff, G. I.
ISBN: 978-0-9572481-1-3
Binding: Hardback
Publisher: Book Studio
Publish Date: 2014
Pages: 464
Size: 5.5″ x 8.5″
The talks in this volume are not verbatim transcriptions. In the early years of Gurdjieff's exposition of the fourth way teaching, he rarely allowed notes to be taken during his talks. The majority of his early talks were written down after the fact by pupils who were present, either individually or collectively, and should be taken as recollections of what people believed Gurdjieff to have said.
The provenance of the talks are library archives, private collections, and individuals from all around the world. They have been arranged chronologically and are presented in this edition for the first time in their entirety.
Over one hundred authentic talks, unaltered and unexpurgated.
Illustrated and fully indexed with exercises, sayings and aphorisms.
Buy from Amazon: UK | USA | Canada | France | Germany | Japan
Kindle: UK | US | CA | IN | DE | FR | ES | IT | NL | JP | BR | MX | AU | IN
Joseph Azize Reviews: Gurdjieff's Early Talks
John Robert Colombo reviews Gurdjieff's Early Talks